Thank you for coming.
You are visitor since Apr. 10, 1998
---
---
Congratulations; now in English ! Released in Tilburg MSX Fair !
English version of Fighter's Ragnarök was released in fair that was held in Tilburg in Holland, at Apr. 25, 1998.
Huge thanks to Takamichi who helped English translation and Stephan Szarafinski who did distribution in the fair on our behalf. m(vv)m

See here for details.
---
Congratulations: Completed ! And, Congratulations to MSX Festa 97 !
We managed to complete Fighter's Ragnarök before opening of MSX Festa 97, a fair held by MO SOFT in Aug. 24 1997, and we managed to go through the fair with success.
Many thanks go to efforts of our staffs.
---
Mail Orders are Now Acceptable.
Since Sep. 20, 1997 (Sat.), mail order of our products is possible.
For ordering method, see here. Procedures are easy-to-understand.
---
Apology for the Bug, and Correction to our Software
One of our staffs reported a minor bug in "Fighter's Ragnarök". We must admit many of you have probably noticed the bug already.
Therefore, we would like anyone who own copy of the game (especially the one you bought at MSX Festa) to download patch version. m(vv)m
We also discovered the reason of Disk Full error you encounter in middle of the game. Its solution is as follows.
File you should modify is "CHARASE.BAS".

230 _ LZDMD(DR$+"charase.mpk")<= Delete DR$+ in line 230

320 IF ERL=230 THEN COPY "charase.mpk" TO "h:" ELSE 330<= Delete line 320

If you are afraid to do by your own, or regard such procedures timestaking, we would like you to download the following. m(vv)m
---
What is Fighter's Ragnarök !?
Fighter's Ragnarök (called F.R.) is a man-vs-man fight game developed by Delta-Z, and runs on MSX 2 and later. This game controls 10 players in total (you can use 9 of them) through your command input.
See here for details.
You can also download promo version here. Though this is restricted more quitely, but you can play it normally. If you play it and think, "How nice !", what about playing the Product version very much ?
---
These are screenshots from Fighter's Ragnarök !!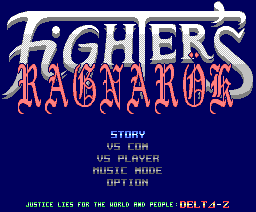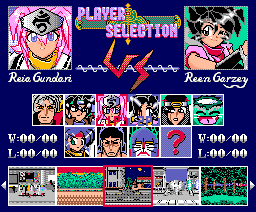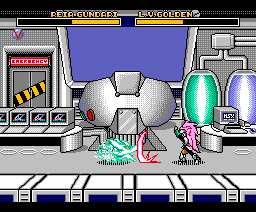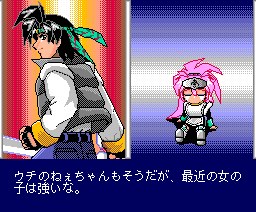 ---